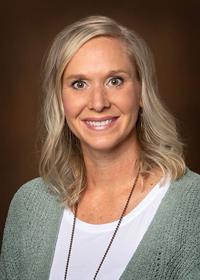 About the author
Angela Marie Connely
About 10% to 20% of pregnancies end in miscarriage. It's an experience that can produce overwhelming grief. Some people may want to process what they've been through by talking about it. Others may not. Either way, it can be difficult to know what to say or do when someone shares that they've lost their baby.
"Miscarriage is common, but that doesn't mean it isn't incredibly devastating for people going through it," says Gundersen certified nurse midwife Angela Connely.
Here are some ways Angela recommends helping support someone after a miscarriage.
What to say to someone after a miscarriage
The most important thing you can do for someone who has had a miscarriage is to let them know that you're there for them. Acknowledging the person's experience with short, simple phrases like "I'm sorry" can open the door for them to begin sharing, if they want. Other phrases that can be helpful to say to someone after a miscarriage include:
"I'm here for you."

"I'm sorry you lost your baby."

"Would you like to talk?"

"What do you need?"
Listen closely to whatever answers the person gives. Don't judge or try to solve anything. Everyone processes grief after miscarriage differently, and grief ebbs and flows. This means it's also necessary to check in on the person over time.
"I think it's important for people to know that no two people grieve the same way, and no two people grieve on the same timeline," Angela says. "Some people might be fine a couple weeks after a miscarriage. Some people might still be grieving a year later. Make sure the person does not feel alone and isolated."
This applies to partners who may be struggling with the pregnancy loss, too. They need to know you're there for them as well.
Beyond talking with someone who has had a miscarriage, you can show continued support for them by:
Dropping off meals for the family

Driving older siblings to appointments or activities

Delivering the person coffee, a treat or a handwritten note

Planning everyday activities with the person like you normally would before they had a miscarriage, which can help them feel less isolated

Buying them a special or personalized gift in memory of their baby
What not to say to someone after a miscarriage
You may mean well by trying to offer advice to someone who has had a miscarriage, but it's best to refrain.
"Don't give advice unless they ask for it," Angela says. "Sometimes people try to fill gaps in conversation because it's not easy to just sit with grief and be silent. That can result in people handing out their own advice, which is not necessary and often not well-received."
Also avoid statements that may minimize someone's loss or what they're going through, such as:
"At least it happened early in your pregnancy."

"It just wasn't meant to be."

"At least you know you can get pregnant."
Overall, empathy, compassion and good listening can go a long way in helping someone through pregnancy loss.
"A lot of women blame themselves or start looking for something they did wrong," Angela says. "Most of the time miscarriage is out of our control and it isn't because of something we did or didn't do."
For additional support dealing with grief after miscarriage, Gundersen Grief & Bereavement can help.
Related articles
Breastfeeding tips for the holidays
Breastfeeding during the holidays? Use these tips to help you maintain your milk supply, reduce stress, and keep you and your baby happy and healthy.
How to manage holiday stress
The holidays can be stressful. Here are some ways you can help limit stress for you and your family this holiday season.
4 simple ways to connect with your kids
It's no secret why finding quality time with your kids is a challenge. Being a great parent and creating memories happens in everyday moments.
Why it's important to celebrate the small stuff
Often, it's the time between big events that parent-child relationships are nurtured and memories made.